Je n'apprendrai à personne ici, je pense, mon amour du jeu vidéo, ma mélomanie, et donc en toute logique, ma passion des OST de jeu vidéo  🎮🧚🐉🗡️✨ !
Alors quand Samuel m'a invitée à partager ma playlist idéale sur Radio Pays d'Hérault ,j'étais à la fois terrifiée et exaltée ( ce qui finalement ne change pas grand chose a mon était habituel… 😅 )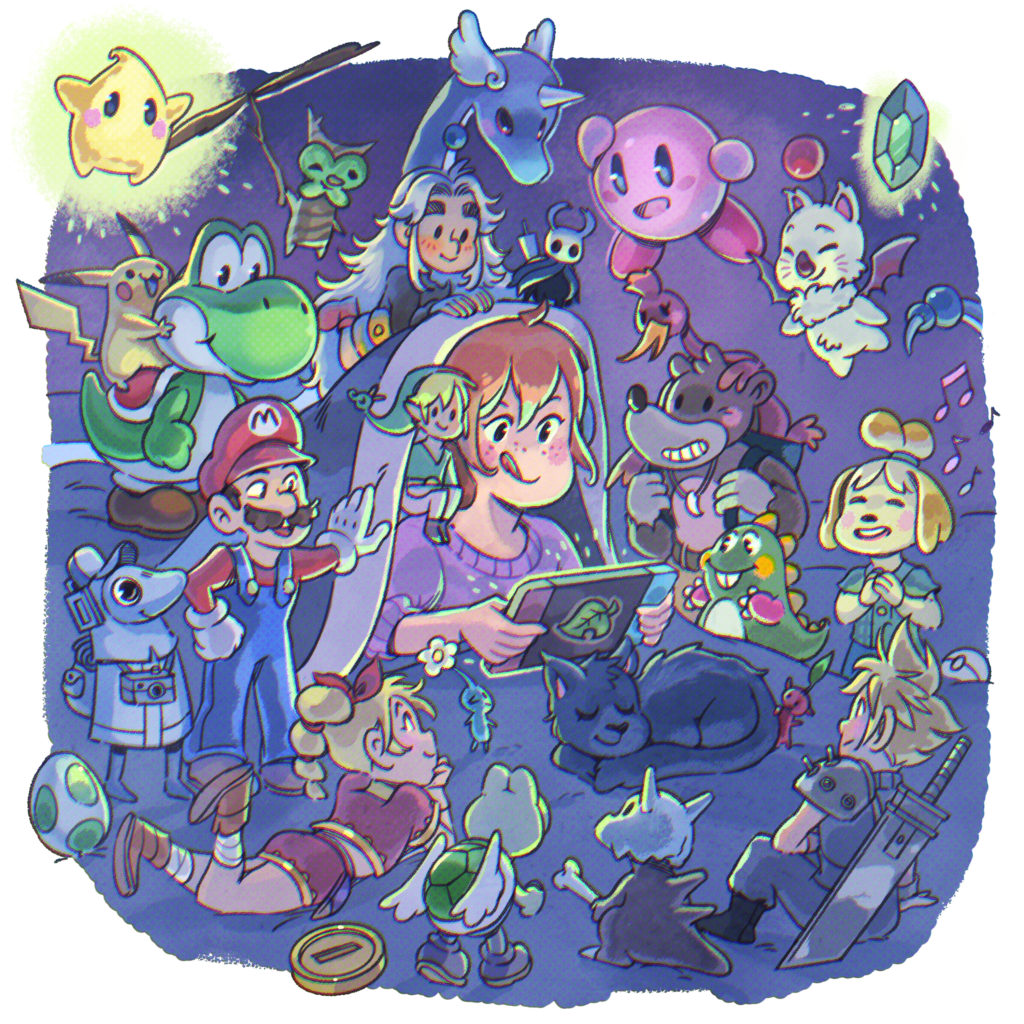 Bref, je vous glisse le lien pour l'écouter ici en espérant que cela vous plaira et agrémentera joyeusement vôtre journée/soirée (avec un peu de nostalgie du coup pour les ami.e.s de ma génération 🥰 ) !
Plein de bisous sur vous 💕
Vivre la nuit – L'épopée musicale vidéoludique de l'illustratrice Myrtille
—
Diffusion : Jeudi 30 mars 2023 à 18h10 en direct et vendredi 31 mars à 22h
Animateur : Samuel Heyndrickx
Invitée : Mathilde Fenouillet alias Myrtille Tournefeuille, illustratrice montpelliéraine passionnée de jeux vidéos
Pour cette émission de Vivre la nuit, réveillons nos souvenirs de gamers et laissons nous envahir par les émotions léguées par ces jeux qui nous ont tant marqués!
Notre invitée Myrtille nous a concocté une playlist qui va nous faire basculer de la réalité morose vers la virtualité virtuose.
Plongée dans un monde vidéoludique riche de merveilles musicales en cie de compositrices et compositeurs locaux et internationaux.
La playlist de Myrtille :
1. Bastion ( A Proper Story, The Pantheon ) , Darren Korb, Supergiant Games, 2011
2. Toem ( Photo of Home ), Launchable Socks et Jamal Green, Something we made, 2021.
3. Tony hawk's Pro Skater, Superman, Goldfinger, Activision, 1996.
4. Banjo-Kazooie ( Main Title, Treasure Trove Cove ), Grant Kirkhope, Rare, 1998.
5. Final Fantasy Crystal Chronicles ( Kaze No Ne ), Kumi Tanioka, Square, 2003.
6. Hollow Knight ( City of Tears ), Christopher Larkin, Team Cherry,2017.
7. Guitar Hero 3, Through the fire and flames, Dragonforce, 2007
8. Link's Awakening ( Tal Tal Heights ) Minako Hamano, Kozue Ishikawa, Soyo Oka, Kazumi Tokata et Koji Kondo, arrangements Ryo Nagamatsu, Nintendo, 1993-2019
9. Chrono Cross ( Time's Scar ) Yasunori Mitsuda, Square
1999 – Pour cette version, réarrangement Boston Live 2014
10. Ragnarok 2 ( Prontera Field ), Yoko Kanno, Gravity, 2012
Lodoss, Sakura, Cowboy bebop, escaflowne, gundam.
11. Yoshi Story ( Penguin Yoshi Athletic ) , Kazumi Totaka, aka Totakeke, Nintendo, 1998.
12. Wonder Boy: The Dragon's Trap ( Desert Zone ), Shinichi Sakamoto, Michael Geyre , Lizardcube, 2017.
12. Season after fall (Creek) , Yann Van der Cruyssen, Swing Swing Submarine, 2016
13. Wild Arms ( Into the wilderness ), Michiko Naruke , Media Vision, 1996
14. Final Fantasy VI – Aria Di Mezzo Carattere (Live with the Swedish Radio Symphony Orchestra )
Nobuo Uematsu, Square, 2006
16. Super Mario Odyssey ( Jump Up, Super Star ! ) Nobuyoshi Suzuki, Kate Higgins, Nintendo, 2017